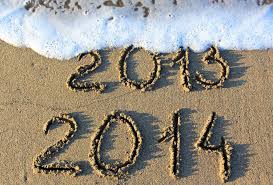 As December 2013 comes to a close, you are more than likely preoccupied with organizing your health business plans for the new year. Your brain is barraging you with questions about how you can increase your sales and serve more clients. However, before you take a look at 2014, take a moment to celebrate all that you have accomplished in 2013. How have your content marketing efforts  supported your accomplishments for 2013? It is difficult to make goals for next year when you have no idea what was successful, and not so successful, the previous year. Here is a list of 10 steps that will guide you through creating your year in review statement.
Your Content Marketing Year in Review: 2013
Make a list of all your biggest accomplishments for the year.
Did you make a list of marketing goals for 2013? Take that out and analyze how you fared.
Do you have a blog? What were some of your most popular blog posts? This can be measured by the number of comments that were left, how many times was it shared on social media, and the amount of traffic your site received after publishing that post.
Did you do any 

guest blog posts

? What were the results of those posts? Did you get new business? Did your blog receive more traffic? Did you sell any products?
Did you get any press mentions on the web, local, national, or international media? How and why did those press mentions happen? Press releases, personal relationships, contributed articles, etc.
Did you create any new relationships with other business owners as a result of your blog, social media, etc.?
What is the percentage of increase in your email list from the beginning of 2013 to now?
How has your social media presence grown from the beginning of 2013 to now?
What is your most successful content marketing tool? Is it your blog, newsletter, your Facebook profile, etc.?
Now that you know what was successful for 2013, what content marketing tools will you use going into 2014? How will you use them to meet your goals for the new year?
If you are looking for a content marketing expert who can help you plan for business success in 2014, contact me for your free 15 minute consultation.
The following two tabs change content below.
Halona Black provides web copywriting, blogging, and author services for health and wellness experts. Be sure to download your free copy of, "Business Building Ebooks That Sell."
Latest posts by Halona Black (see all)