Ebooks are an excellent marketing tool. You can use them as a free giveaway to grow your email list or as part of an email marketing funnel. Grow your expert status by becoming an Amazon Bestselling Author! There are so many ways that you can use an ebook to grow your health business.
How to Attract More Clients with an Ebook
An ebook is the quickest way to prove your authority when talking to potential clients. For example, a gynecologist may find it helpful to have an ebook that answers the most frequently asked questions services. An herbalist's clients may find it useful to download an ebook about the best herbs to combat flu season. The ebook can also feature your best products related to the flu.
Looking for More Traffic, Leads, and Sales for Your Health Business?
Here's an example of an ebook I recently wrote that made it to Amazon's Bestseller list, Planning, Writing, & Publishing Business Building Ebooks.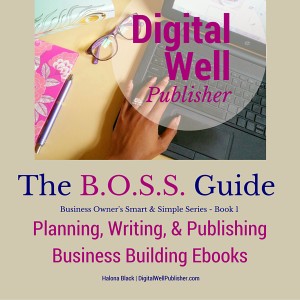 How Does It Work?
Email me at HalonaBlack@gmail.com and let me know you are interested in the ebook ghostwriting service.
We will set up a free consultation to talk about your business needs.
Promotional ebooks used as a free giveaway are generally 5 to 10 pages. If you are looking for something longer to sell on Amazon or other spaces, we can arrange that.
The price for ebooks is $25/page PLUS a $90 fee for 2 hours of research. Complicated subjects that require in-depth medical research is $35/page.
The price of the ebook includes a basic cover design. You may choose to create your own or use your graphic designer at your own expense.
Your ebook is sent to you as a PDF. Other file formats for Kindle and other ebook platforms will incur an additional cost.