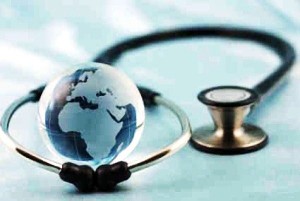 As a Returned Peace Corps Volunteer (from Togo, if you're interested…), the focus on all things international in American consumer trends for 2014 makes me happy. I am fascinated by international foodways, culture, and language. I hang out with people from all over the planet who also hang out with other people from all over the planet. I even studied different ways of learning and understanding in international contexts as a graduate student at the University of Massachusetts' Center for International Education. It's no wonder why I continue to bring that global perspective to my clients.
So why the big consumer focus on all things international? Consumer market analysts* state that 67% of Americans who consume alcohol are interested in buying drinks from other countries. While your company may not sell, or even encourage the consumption of alcohol, this interest in products originating from other countries can be found everywhere. Think about the use of shea butter from West Africa in just about every natural body care product at Whole Foods Market. Not only do skin care companies use it as a raw material, but they will tell you how your purchase improves the lives of the fair trade cooperative members that produced it. The consumer gets a great natural product that works AND they feel connected to these women on the other side of the world.
Need more proof that internationalizing your health content marketing strategy is a good idea? Think about this: 42% of US adults love the idea of international travel.* Now, the idea of international travel is vastly different from actually doing the international travel. However, this finding poses a great opportunity for health and medical providers to bring the international travel to their customers and patients through content marketing. Do any of the following suggestions spark any new ideas for internationalizing your medical content marketing plan in 2014?
Focus on Traditional Health
Every culture on the planet has some kind of traditional healing techniques or foods that promote good health. No matter what kind of health business you own or work for, there are plenty of opportunities to quench your target audience's thirst for everything international. Try highlighting traditional Chinese herbs that may prevent a nasty cold in your newsletter. Share a soul stirring soup for cold winter days from the ayurvedic tradition of India in your company's Facebook status. Write a guest blog post about how Buddhist spiritual traditions help busy Americans find peace in a chaotic environment. There is so much global inspiration for your content marketing that you should never run out of things to say.
Be Inspired by International Events
Just because your medical practice is local doesn't mean you have to only talk about local events. Many of your patients use international sports to socialize amongst friends. 2014 is the year of two of the biggest international sporting events: The Winter Olympics in Russia (February) and The World Cup in Brazil (June). How can you leverage these events to create rich content marketing material for your health business? Try writing a free report that offers health and wellness secrets from your favorite Olympians. Are you a dentist looking to reinvigorate your dental marketing plan? Why not create an email marketing campaign that encourages fundraising for a dental charity for children in Brazil? Connecting your dental practice to a Brazilian charity may work particularly well if you happen to serve a large population of Brazilian immigrants.
Health Marketing: Lost in translation
As health companies are looking to internationalize their content there are several pitfalls that health companies make that can tear down all the work you put into your content marketing strategy. The use of the Spanish language in the US is increasing as more Spanish speaking immigrants come to the US to live and work. Many health organizations want to use this as an opportunity to market to that audience. However, rather than taking the time to personalize their content for that community (or communities as all Spanish speakers are not the same…), they just take the same old patient education material used for an American audience and translate it into Spanish. Take a look at these translation failures and you'll understand how potentially embarrassing this can be for your health company.
Global Content Works for Local Medical Providers Too
Internationalizing your content marketing strategy works whether you are an international food, health, and wellness company or a local medical practitioner. Although you may serve people in your local town, think about how many more immigrants have sought out your business in the last few years? Think about how many more ethnic foods are available in your grocery store or the increasing number of ethnic restaurants popping up in big and small towns alike. Television and other media demonstrating how easy it is to buy real estate in some of the world's most exotic locations indicate a consumer that is hungry for international perspectives.
The world of health marketing is changing as consumers are becoming much more health savvy. They no longer depend solely on the advice of doctors to get their medical information. They want health products and services that are inspired by nature and can be integrated in their day to day lives without a lot of fuss. Help your customers to relate to your brand by giving them the relevant content that feeds their international curiosity. I am sure you will find that this will not only excite your target audience, but it will bring new energy to your everyday work.
So let's discuss! How can your company take advantage of global trends in health content marketing?
———-
* from the report, "Mintel Reveals US Consumer Trends for 2014."