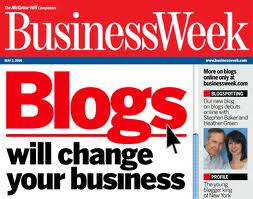 There are literally millions of blogs and even more blog posts out there on the internet. Why should your healthy brand invest the time and energy into creating one?
Blogs help build relationships with customers
Some businesses only reach out to their customers when they have something to sell. This can be a major turn off for a lot of consumers. Blogs are a soft way of knocking on your customer's door and reminding them that you exist.
People or businesses that have bought from you — or those that may want to buy from you in the future — want to stay in contact with you. They want to know your opinion on relevant topics, the latest on your new products, they want first dibs on coupon codes and sales, etc. Help your current and future customers stay in contact with you by offering a blog subscription via email or rss.
********************************************************************************************************************
Looking for an email subscription service? I highly recommend Aweber to help you create your money making email list.
********************************************************************************************************************
Well written blog posts can help your business rank high in Google
Blog posts can help potential customers discover you during their internet search for your product or service. For example, if I am looking for monkey trainers in Wisconsin, I would type in those keywords in my Google search and perhaps review the first two to three pages of results. If you are a diligent elephant trainer who blogged regularly, you would use the keywords, "monkey trainers Wisconsin," often in your blog posts, making your site pop up in the Google results (alright, the algorithm for Google searches is way more complicated than that, but you get my point…). I'd be able to read the posts you wrote and decide if you were the the type of monkey trainer I was looking to hire.
Good blog content sets you apart from your competition
Blog posts are a great way to set your business apart from your competition. Just about every health company with a web presence will write a mission statement somewhere on their site. However, who really reads those things and commits it to memory? It is much easier to express your mission and values in your blog posts.
If your company sells iron pills, you may want to blog about why your iron pills are better than others. Are your iron pills suitable for pregnant women? Does your company refrain from using animal by-products or artificial binders? Are the pills easy on the digestive system? Your answers to these questions say a lot about who you are as a company and your values, much more than any dry mission statement can convey.
Are you ready to get your blog started? Do you already have a blog and want to know how you can improve it? Write your thoughts in the comments below.
The following two tabs change content below.
Halona Black provides web copywriting, blogging, and author services for health and wellness experts. Be sure to download your free copy of, "Business Building Ebooks That Sell."
Latest posts by Halona Black (see all)